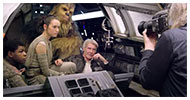 Star Wars: The Force Awakens Vanity Fair Photo Shoot Round Up
Posted by Dustin on
May 4, 2015 at 02:24 PM CST
In keeping with tradition, Vanity Fair sent Annie Leibovitz to the set of the new Star Wars: The Force Awakens film that is due out on December 18th of this year.


The cover for the June issue of Vanity Fair features, Daisey Ridley (Rey), BB-8, John Boyega (Finn), Peter Mayhew (Chewbacca), and Harrison Ford (Han Solo). Vanity Fair's June issue, available as a digital edition on Thursday, May 7, and on newsstands nationwide on Tuesday, May 12.
Full Story Here
.
On Set Video From Vanity Fair Photo Shoot
Highlights include:
-Dashing Resistance pilot Poe Dameron (Oscar Isaac) stands alongside his trusty X-wing fighter.
-A small galaxy's worth of tracking dots affixed to Lupita Nyong'o's face allowed artists at Industrial Light & Magic to transform her into the C.G.I. character Maz Kanata.
-Next-generation bad guy Kylo Ren (Adam Driver) commands snowtroopers loyal to the evil First Order on the frozen plains of their secret base.
-Galactic travelers, smugglers, and other assorted riffraff fill the main hall of pirate Maz Kanata's castle.
-J. J. Abrams directs Actress Daisy Ridley for a scene in which her character, the young heroine Rey, pilots her speeder through a bustling marketplace on the planet Jakku.
-Game of Thrones Star Gwendoline Christie portrays Captain Phasma (Silver Trooper)
Related Stories:
EMPIRE Magazine Celebrates The Force Awakens With Two Collectible Covers
New Photos From Star Wars: The Force Awakens
First Look At Luke Skywalker From Star Wars: The Force Awakens
Watch Han Solo And Chewbacca Get 40 Years Older In 2 Seconds
First Look At Princess Leia From Star Wars: The Force Awakens
First Look At Captain Phasma From Star Wars: The Force Awakens
Vanity Fair Photos Showcase New Characters From Star Wars: The Force Awakens
Star Wars Cast On Set For Vanity Fair's Cover Shoot
Star Wars: The Force Awakens Cast Featured On June Issue Of Vanity Fair