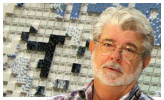 George Lucas Celebrates 40th Anniversary Of American Graffiti
Posted by Dustin on
June 8, 2013 at 06:30 PM CST
Retired Director George Lucas was on hand as the grand marshall in a parade marking the 40th anniversary of his hit film American Graffiti in Modesto, California Friday night and had this to say about the film.



Video courtesy Fox40.com.
For those unfamiliar with
American Graffiti
, here is a synopsis from
Wikipedia
. We highly recommend you check it out.
American Graffiti is a 1973 coming of age film directed and co-written by George Lucas starring Richard Dreyfuss, Ron Howard, Paul Le Mat, Harrison Ford, Charles Martin Smith, Cindy Williams, Candy Clark, Mackenzie Phillips and Wolfman Jack. Set in 1962 Modesto, California, American Graffiti is a study of the cruising and rock and roll cultures popular among the post–World War II baby boom generation. The film is a nostalgic portrait of teenage life in the early 1960s told in a series of vignettes, featuring the story of a group of teenagers and their adventures within one night.

The genesis of American Graffiti was in Lucas' own teenage years in early 1960s Modesto. He was unsuccessful in pitching the concept to financiers and distributors but finally found favor at Universal Pictures after United Artists, 20th Century Fox, Columbia Pictures, Metro-Goldwyn-Mayer, and Paramount Pictures turned him down. Filming was initially set to take place in San Rafael, California, but the production crew was denied permission to shoot beyond a second day. As a result, most filming for American Graffiti was done in Petaluma.

American Graffiti was released to universal critical acclaim and financial success, and was nominated for the Academy Award for Best Picture. Produced on a $775,000 budget, the film has turned out to be one of the most profitable movies of all time. Since its initial release, American Graffiti has garnered an estimated return of well over $200 million in box office gross and home video sales, not including merchandising. In 1995, the United States Library of Congress deemed the film "culturally, historically, or aesthetically significant" and selected it for preservation in the National Film Registry.
Related Stories:
The ForceCast is our popular Star Wars podcast that features news, commentary, interviews, and discussion about the Star Wars saga! Listen Now!
Spider-Man: Homecoming (and Spin-offs) (Venom)
---
The All-New All-Different Marvel Comics Draft
---
The First SWC Muggles Draft - The Draft Who Lived
---
Bring Back the OC Revolution | NEW Challenge and new discussion
---
Rebelscum.com provides the latest in collecting news. The site features up-to-the-minute news and images, coverage of Star Wars conventions, several product databases, countless reference galleries and archives, and more.Visit Now!
Jedi Journals is the longest running Star Wars literature podcast in the galaxy. Listen Now!
Entertainment Earth was started in a garage in 1995, and has since become the "go-to" source and experts for the latest and greatest action figures, bobble heads, toys, gifts, and collectibles! Visit Now!
The IndyCast is the world's most popular Indiana Jones podcast! Ed Dolista and his team take a look at all the latest news, reviews and interviews! Listen Now!