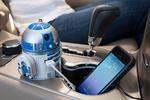 The R2-D2 USB Car Charger From ThinkGeek
Posted by Dustin on
November 29, 2013 at 05:51 AM CST
As a R2-D2 focus collector, I had to share this new item available from ThinkGeek. How cool is it to have your very own R2-D2 riding along with you on your daily commute?! Check the specs below and definitely watch the video to see just how fun this item is.


R2 units: is there anything those little guys can't do? While we don't yet have the technology in this quadrant of the galaxy for fully-automated repair droids like the R2 units from Star Wars, we can get a portion of the R2's versatility into something small enough to sit in your vehicle's cupholder.

You see, it makes R2-D2 whistle sadly when he sees a device that's run out of power. Make him bloop and bleep happily again by letting him use your vehicle's power to recharge your devices. With him plugged into your cigarette lighter socket, you can get 2.1 Amps through each of his USB charging ports, which is enough to charge two tablets or smartphones or, well, pretty much anything that charges via USB. What's that, little guy? He says, "Bloop bloop bleep," which we think means "Yay!"





Product Specifications


R2-D2 USB Car Charger

A ThinkGeek creation and exclusive!

Officially-licensed Star Wars merchandise

Compatible with anything that charges via USB (iPhones, smartphones, iPads, tablets, GPSes, etc.) as long as you have the cable

Two (2) USB charging ports

Each port provides 2.1 Amps (enough to charge 2 tablets simultaneously)

R2-D2's dome rotates and lights up; he whistles and beeps (when power is connected and when your device begins to charge; force him to animate by pressing his center button which turns power to the ports on)

Flexible arms allow you to customize him to best fit your vehicle's cupholder

Blue/red LED inside the front radar eye lens indicates USB port power status

Dimensions: 5 1/2" tall, 3 1/2" wide at widest, 2" diameter at bottom (to fit cupholder), cable 36" long

Includes: R2 unit with 2 USB ports, 12V vehicle cigarette lighter adapter

Related Stories:
R2-D2 Dances To Michael Jackson Tunes In Music Video

The ForceCast is our popular Star Wars podcast that features news, commentary, interviews, and discussion about the Star Wars saga! Listen Now!
---
From Endor to Jakku - The State of the Galaxy Discussion Thread (TLJ Novelization Spoilers)
---
60+ Years of James Bond 007
---
RYL Episode V: You Gotta Lotta of Guts Coming Here, After What You Pulled!
---
Rebelscum.com provides the latest in collecting news. The site features up-to-the-minute news and images, coverage of Star Wars conventions, several product databases, countless reference galleries and archives, and more.Visit Now!
Jedi Journals is the longest running Star Wars literature podcast in the galaxy. Listen Now!
Entertainment Earth was started in a garage in 1995, and has since become the "go-to" source and experts for the latest and greatest action figures, bobble heads, toys, gifts, and collectibles! Visit Now!
The IndyCast is the world's most popular Indiana Jones podcast! Ed Dolista and his team take a look at all the latest news, reviews and interviews! Listen Now!