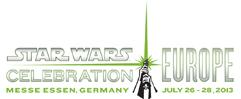 CEII: Art Show Participants Announced
Posted By Jay on February 13, 2013
It's time for the best part of Celebration?The Art Show! No where else will you be able to get such an amazing array of exclusive prints in one place. We don't know what we'll see yet, but we do know 'who' we'll be seeing it from.

This July 26-28th, in Germany you will be able to get art prints from the following artists:
Steve Anderson
Drew Baker
Paul Ballard
Spencer Brinkerhoff
Matt Busch
Richard Chasemore
Joe Corroney
Doug Cowan
Hugh Fleming
JAKe
Hans Jenssen
Ken Lashley
Erik Maell
Jason Palmer
Brian Rood
Tsuneo Sanda
Joshua M. Smith
Shea Standefer
Chris Trevas
Malcolm Tween
Jerry Vanderstelt
Christian Waggoner
Lin Zy

For a full read, plus a gallery of head shots, check out the link at the official Celebration Europe website.
Related Stories
| | |
| --- | --- |
| July 23, 2013 | CEII: Exclusive Jocasta Nu Action Figure For Germany |
| July 22, 2013 | Rebelscum.com Star Wars Celebration Europe II Survival Guide Update |
| July 18, 2013 | CEII: Exclusive Star Wars Insider Magazine For Germany |
| July 17, 2013 | CEII: Doug Cowan Art Print Update |
| July 16, 2013 | CEII: Paul Allan Ballard Art Print Update |
| July 15, 2013 | CEII: Exclusive Attakus Commander Cody Statue For Germany |
| July 15, 2013 | CEII: Randy Stradley Added To Germany Lineup |
| July 15, 2013 | CEII: Official Pix Autograph Hall Schedule Is Live |
| July 11, 2013 | CEII: Official Pix Autograph Ticket Pre-Order Deadline Extended |
| July 11, 2013 | CEII: Rebelscum.com Name Badge Art For Germany Revealed |
| July 8, 2013 | CEII: Official Pix Autograph Ticket Pre-Order Deadline Approaching |
| July 5, 2013 | CEII: Gentle Giant Ltd. Exclusive For Germany |
| July 5, 2013 | CEII: Official Pix Autograph Send-In & Pre-Order Service Deadline Today |
| July 3, 2013 | CEII: Bounty Hunt Challenge |
| June 13, 2013 | CEII: Official Pix Exclusive Lithograph Set Revealed |
| June 13, 2013 | CEII: Artists Doug Chiang & Iain McCaig Announced |
| June 13, 2013 | CEII: Temuera Morrison Headed To Germany |
| June 12, 2013 | CEII: Official Pix Autograph Send-In & Pre-Order Service Now Live |
| June 6, 2013 | CEII: Official Pix Autograph Hall Tickets Now Available For Pre-Order |
| May 29, 2013 | CEII: Hasbro's Germany Exclusive Revealed |
| May 29, 2013 | CEII: Celebration Art Pieces Revealed |
| May 29, 2013 | CEII: Attack Of The Clones 3D Screening In Germany |
| May 24, 2013 | CEII: David Collins Returns To Digital Stage For Germany |
| May 24, 2013 | CEII: Return Of The Jedi Screening At Celebration |
| April 14, 2013 | Celebration Europe II Collecting Panels |
| March 26, 2013 | CEII: Carrie Fisher Heading To Germany |
| March 18, 2013 | CEII: Four Fetts At Celebration |
| March 6, 2013 | CEII: Official Pix Celebration Autograph Hall Returns |
| March 6, 2013 | CEII: Ian McDiarmid Confirmed! |
| February 26, 2013 | CEII: Sansweet & Hidalgo Attending |
| January 11, 2013 | Celebration Europe II: New Rebelscum Forum |
| August 27, 2012 | Celebration Europe II Announced |
| July 9, 2007 | Celebration Europe Survival Guide |