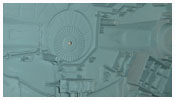 ebay Today: Totally Ridiculous Auction Or Fine Art?
Posted By D. Martin on January 18, 2013
A newly listed item has us once again scratching our head. While many of us would hang it on our wall, is the Star Wars Painted Sculpture (Mellinium,2012) by Grant Parker worth $250,000.00? Even if 10% of the final sale price will support Water.org? We're guessing most of you would agree that it isn't, but the question remains since there is a Make An Offer option; is this fine art or totally ridiculous? Follow the above link to have a look then let us know what you think.
Related Stories