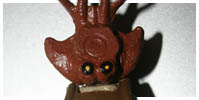 eBay Today: Mongo Beefhead Tribesman?
Posted By D. Martin on February 11, 2012
as the Original Kenner Collection was winding down, the toy makers made one last ditch effort to keep Star Wars toys on the store shelves, and they mocked up a bunch of figures and toys and pitched a concept called "The Epic Continues", which essentially focused on Grand Moff Tarkin somehow escaping the first Death Star and taking the Emperor's place in galactic tyranny. Needless to say, LFL said no. One of the mock up figures was called the Mongo Beefhead Tribesman, and we're pretty sure, despite the auction's description, this isn't the actual mock up. The sad irony of Kenner's pitch is that we would have had a Tarkin in 1986... Thankfully Hasbro has just, with today's Toy Fair reveals, resolved that one oversight.
Related Stories