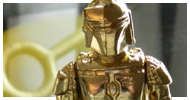 eBay Today 1327: Amazing Find Or Incredible Hoax?
Posted By D. Martin on April 9, 2013
Every so often someone puts something on eBay that can create a lot of confusion, especially when you consider how well documented the Classic Kenner collection has become, and this auction being listed as a Kenner Canada Rocket Firing Boba Fett retirement gift is one such auction. The story is reasonable. It could be real, but why would Kenner Canada have a Rocket Firing Boba prototype kicking around? If they did, why would they have it kicking around until the mid-Eighties? We're not saying it's fake, but it certainly is an incongruous piece. Follow the link to see it for yourself then let us know what you think.

For more discussion on this auction, head into our Vintage Forums.
Related Stories