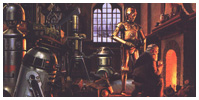 eBay Today 1273: Where Would Jon Bon Jovi Be If Not For?
Posted By D_Martin on October 10, 2012
Did you know that John Francis Bongiovi, Jr, better known by ladies in their late thirties as the hunk Jon Bon Jovi, started his rocking career festively crooning about The 'Wars? Yup. Bon Jovi's first credited work as a singer was on the 1980 RSO Records Christmas In The Stars: Star Wars Christmas Album. what's more, the record was produced by Meco Monardo, who also gave us Star Wars and Other Galactic Funk, and featured the sound design of Ben Burtt and the narration of Anthony Daniels. Follow the above link to check out another very cool piece of Star Wars history.
Related Stories