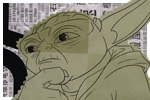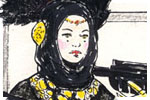 eBay Today 1268: The Clone Wars Charity Auctions
Posted By D. Martin on September 24, 2012
From Jovial Jay:

CLONE WARS ART AUCTIONS are now up on eBay!!

Please check out my Clone Wars art auctions currently on eBay. 100% of the proceeds benefit the Mitochondrial Disease Action Committee. As some of you may know, my 10 year old niece was diagnosed with Mito at an early age, so I'm using my love of Star Wars to help raise awareness and some money for research.

Artwork in this series was created by voice actors from The Clone Wars television show and include: TOM KANE (Yoda), JAMES ARNOLD TAYLOR (Obi-Wan Kenobi), MATT LANTER (Anakin Skywalker), CATHERINE TABER (Padmé Amidala), & JAIME KING (Aurra Sing).

So in celebration of Global Mitochondrial Disease Awareness Week (last week; Sept. 16-22, 2012) and the debut of Season 5 of The Clone Wars (this coming Saturday, Sept 29, 2012) please consider bidding on one or more of these amazing pieces of art!! These are a unique, one-of-a-kind auctions of collectible art that will be found nowhere else!
Related Stories
| | |
| --- | --- |
| October 8, 2012 | eBay Today 1272: Ben Cooper Costumes |
| October 4, 2012 | eBay Today 1271: Proof Is In The Pudding |
| October 1, 2012 | eBay Today 1267: The Clone Wars Charity Auctions Update |
| September 29, 2012 | eBay Today 1270: These Young Braves Changed Everything |
| September 26, 2012 | eBay Today 1269: Muscly Men & Bull-Legged Women |
| September 22, 2012 | eBay Today 1267: Drool Worthy LEGO Collection |
| September 21, 2012 | eBay Today 1266: Back In My Day Part 2 Electric Boogaloo |
| September 19, 2012 | eBay Today #1265: Get Your Star Tots |
| September 17, 2012 | eBay Today #1264: Star Wars' Most Complex Character |
| September 15, 2012 | eBay Today #1263: Back In My Day... |