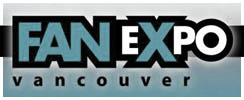 Vancouver's First Fan Expo This Weekend
Posted By Adam on April 19, 2012
Fan Expo Canada has been running in Toronto for the past 18 years and now Vancouver will be hosting its first major comicon this coming weekend, 21st & 22nd April, at the Vancouver Convention Center.

While Jeremy Bulloch is the only Star Wars guest of note, members of the 501st will also be in attendance, and they will have a charity booth there in collaboration with Variety Club BC, where you can purchase a Gold heart pin and get a photo with your favorite Star Wars characters! Not only that but they will also be hosting a Star Wars kids activity hour and a group photo at 5pm each day.

There will also be an exhibitors area with a whole host of dealers selling toys, books, comics and much, much more.

You can checkout the schedule for both days by clicking on this link.

The show runs from 10am to 7pm on Saturday, and 10am to 5pm on Sunday.

Tickets for the event are priced at $20 for a single day and $30 for the deluxe two-day pass and can be purchased online or on site at the box office.

For more information, visit the official website.
Related Stories