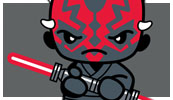 Today On ShirtPunch: Revenge!
Posted By D. Martin on February 6, 2013
ShirtPunch's latest journey to A Galaxy Far, Far Away is ever so cute, but At Last We Will Have Our Revenge! Follow the link above to check it out, but remember, like all the designs they offer, this one will only be around for 24 hours and the clock is already ticking.
Related Stories