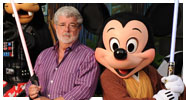 The End Or A New Hope?
Posted By D_Martin on October 30, 2012
None of us, including many friends at Lucasfilm, could have anticipated today's announcement. We all knew there would be Star Wars after George Lucas, but none of us knew how it would pan out. Does today's announcement mean the end of everything we know and love? Does it mean money will overcome story?

A very small, but annoyingly vocal group would have you think that Star Wars will be reduced to as many money grabs as they can conceive, but Disney has proven more times than not to know how to market their properties better than other similar companies. They know that content creates revenue better than any other company in the entertainment field. They know that a well marketed film that is lacking in content will only see a strong return for one or two weekends while a solid film with integrity will be enjoyed a life time of revenue.

What does that mean in the long run? Well, first off, it means that that Episodes Seven through Nine, which so many fellow Star Wars fans have been hoping for will be released. It also means that the stories will be those conceived by George Lucas, so they'll be canon in every way possible. (not to mention it would reunite the core cast for Episodes Four through Six...)

It also means the one company that protects it intellectual property more than any other will be safeguarding Lucas' vision, and that means more than you may think. Beyond just the three films mentioned above, it means Disney will oversee all future releases of the Star Wars brand. That means packaging that reflects the brand (a juxtaposition to the poorly conceived visual direction of the Blu-ray releases). It also means that George Lucas' legacy will not be reduced to novelty or nostalgia.

And most importantly, it means that there will always be new Star Wars toys and collectibles. Imagine getting an old Luke Skywalker (Jedi Master) figure or a Republic Senator Lando Calrissian Premium Format Figure...And perhaps, if we are very fortunate, a Supreme Chancellor Binks mini Bust!


In the long run, it means that now, more than ever, Star Wars is forever!


...and we will be there along with you for the ride.