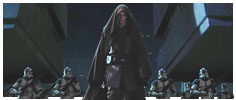 Super-Articulated 6" Figures Coming To Disney Parks?
Posted By D. Martin on December 7, 2012
While we don't have a lot of information to reveal just yet, reliable sources have told us that there are new 6" super-articulated figures being developed, and not by Hasbro. Historically speaking, what has been described to us seems to match the Pirates Of The Caribbean and Indiana Jones figures found at the Disney Parks. We'll keep you posted as more information becomes available.
Related Stories
| | |
| --- | --- |
| January 30, 2013 | High Resolution Hasbro: Black Series Luke Skywalker |
| January 29, 2013 | Hasbro Producing 6" Star Wars Black Series Figure Line |
| December 7, 2012 | Photo Archive: Disney's D-Tech Carbon Freeze Me |
| November 23, 2012 | Probe Droid: Disney's Lucasfilm Acquisition |
| October 31, 2012 | Probe Droid: Disney's Lucasfilm Acquisition |
| August 13, 2012 | Star Tours Season 6 Figures Found At Disneyland |
| May 13, 2012 | New Disney Racers Available |
| May 13, 2012 | Disney's Droid Factory Opens |
| April 29, 2012 | Disney Parks Droid Factory Confirmed |
| March 13, 2012 | Disney World To Get A Droid Factory? |