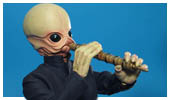 Sideshow Collectibles Offers Free Figrin D'an Figures!
Posted By D. Martin on December 25, 2011
For the second day of Sideshow Collectibles' 2011 12 Days Of Sideshow, you have a chance to take home one of two free Figrin D'an 1/6 scale figures. Follow the above link to see how you can win!
Related Stories