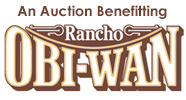 Rancho Obi-Wan Benefit Auction Less Than 1 Day Left!
Posted By AnthonyP on December 8, 2012
One of the most complete collections of loose Star Wars figures--comprised of nearly 2,000 figures ranging from 1978-2011--can be yours, and there's less than one day left! Donated by former ILM-model maker Fon Davis, all proceeds will benefit the auction's seller, non-profit Star Wars memorabilia museum Rancho Obi-Wan. The auction marks the release of Rancho Obi-Wan founder and über-collector Steve Sansweet's latest collecting book, Star Wars: The Ultimate Action Figure Collection. The winning bidder will own approximately 85 percent of the figures listed in the book and, we believe, the peace of mind knowing they're coming from a trusted seller.
Related Stories