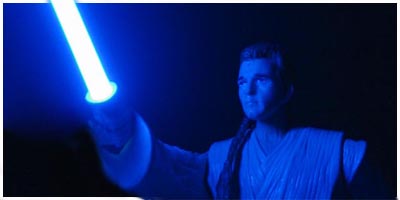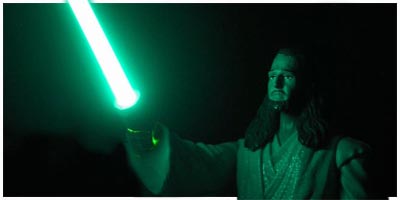 Movie Heroes Review: Obi-Wan Kenobi & Qui-Gon Jinn
Posted By D_Martin on February 20, 2012
The Phantom Menace is back in theatres and the toy store shelves are beginning to party like it's 1999. The second assortment released in Hasbro's brand new Movie Heroes line featured six completely new figures based on the main characters in the first film in the Star Wars saga. Like all the figures in the Movie Heroes line, every figure in this assortment features a tan display stand, a playing card, and a six-sided die.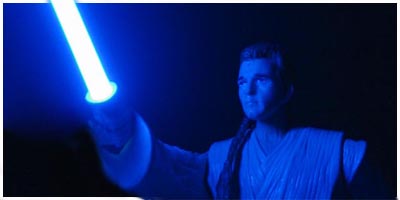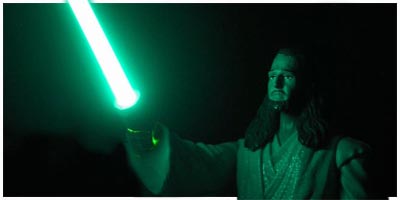 Obi-Wan Kenobi and Qui-Gon Jinn


Since all the positive and negative aspects of these two figures line up perfectly, it only makes sense to review both at the exact same time. First it is important to recognize how far Hasbro has evolved the light up Lightsaber feature. Back in the 90's the light up Jedi figures were incredibly large, almost out of scale, and had massive battery compartments that needed to be covered with capes. Not overly awful with for Darth Vader or Obi-Wan (which was actually his Jedi cloak), but incredibly awkward for the Death Star II duel Luke Skywalker.

These new light up figures are still a bit out of scale, but not really noticeably. Both are well sculpted, so characteristically speaking the tunics look like they should. Obviously the light up arm lacks articulation to house the required wires and light, but the left arms feature a ball jointed elbow that allows for a few pose choices. The costumes are the correct colours, or at least Obi-Wan's is. Qui-Gon's pants could be a bit lighter.

The Lightsabers are very bright, and function by holding down a pressure button on the figure's belt. Sadly, there isn't a built in timer, so when you let go, the blades turn off. Since this will allow for longer play time, it is excusable. Despite how nice these figures are, the one feature on both that takes the cake are the head sculpts, which both are the best we've ever seen based on these characters. In a perfect world they would perfectly fit on the Obi-Wan and Qui-Gon figures released on the Vintage cards (and the first Movie Heroes assortments) ((and many pre-2012 releases)). That said, a small dab of Krazy Glue and you can have the ultimate Obi-Wan and a bit of boiling water to soften the head momentarily will give you the ultimate Qui-Gon. and that alone is reason enough to get a second of each of these figures.



























Related Stories