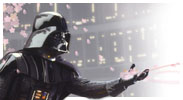 Hot Toys: License To Distribute Hasbro Star Wars In Japan
Posted By AnthonyP on January 24, 2013
日本から再び、フォースを強く感じる!

I feel the force to be strong again from Japan!

このたび、ホットトイズジャパンは、アメリカの大手玩具メーカー「ハズブロ」がお贈りしている
『スター・ウォーズ』製品の国内代理販売を継承いたしました。

This time (or Now),The Japan Hot Toys has become a domestic dealer representative the "Star Wars" product that an American major toymaker "Hasbro"


(詳しくは、画像をクリックして拡大イメージをご覧ください)
(For more information, please Click for larger image)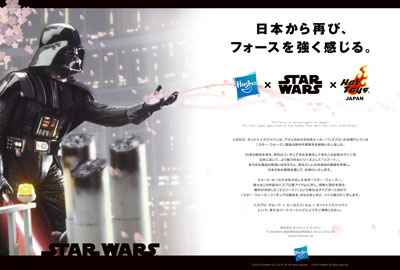 35年の歴史をもち、現代のフィギュア文化を受け継いできたこの伝説のラインを



日本において、より魅力的なシリーズとしてリブート。



あらゆる製品の取り扱いはもちろん、弊社らしい日本独自の展開を考慮し、



様々な販路を通じて、お届けいたします。



With the history of 35 years making, We reboot this legendary line which inherited modern figure culture as a more attractive series in Japan. 

Not to mention the handling of every product, We will bring it in consideration of Japan's original development like our style through various markets.



ジョージルーカスが生み出した名作「スターワーズ」。


The Masterpiece "Star Wars" whom George Lucas created.



我々はこの作品のハスブロ製アイテムに対し、情熱と責任を持ち、



製作が決定したエピソード7という新しいチャプターに向けて



スタワーズフィギュアの歴史を皆様とともにつくり続けたく存じます。


We take responsibility and passion for an item made in Hasbro and want to continue making the history of the Star Wars figures with for a new chapter of Episode 7.


ハスブロ グループ ルーカスフィルム ホットトーイズの新しいパートナーシップにどうぞご期待ください。


Please expect more in new partnership of Hasbro Group, Lucasfilm and Hot Toys.

Related Stories
| | |
| --- | --- |
| September 24, 2014 | Hot Toys: Movie Masterpiece Series Chewbacca! |
| September 24, 2014 | Hot Toys: Movie Masterpiece Series A New Hope Han Solo! |
| September 18, 2014 | Square Enix: Play Arts Kai Star Wars Darth Vader (Kinda) Revealed? |
| July 23, 2014 | Hot Toys Finally Announces Proper Star Wars Line |
| April 28, 2013 | Japan Pacific League Baseball Feels The Force |
| April 3, 2013 | Free Shipping For The Hot Toys Bespin Luke Skywalker |
| February 1, 2013 | Hasbro: Angry Birds Mystery Bags Series 2 |
| February 1, 2013 | 25% Off Star Wars At Toys "R" Us Canada |
| January 29, 2013 | Walmart Canada: Star Wars Planogram |
| January 29, 2013 | Hasbro: Fighter Pods' New Packaging Found |
| December 6, 2012 | Hot Toys: Last Chance For Bespin Luke Skywalker |
| November 4, 2012 | Photo Archive: Hot Toys' Bespin Luke Skywalker |
| October 31, 2012 | Hot Toys' DX Luke Skywalker (Bespin Outfit) Gallery |
| September 27, 2012 | Hot Toys: Upcoming Product Releases |
| May 2, 2012 | What's Next For Hot Toys' 1/6 Scale Collection? |
| December 7, 2011 | Photo Archive: Hot Toys' Indiana Jones Figure |