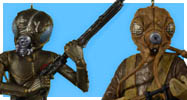 Hallmark's 2012 SDCC Exclusive Set Revealed
Posted By D. Martin on May 30, 2012
Hallmark Unveils Plans, Reveals Exclusive Keepsake Ornaments for Comic-Con 2012


KANSAS CITY, Mo. (May 30, 2012) - Hallmark announces its return to Comic-Con International in San Diego - the largest comic book and popular arts convention in the world. Celebrating its fifth year at Comic-Con, Hallmark will provide more than 100,000 attendees access to Comic-Con-exclusive Hallmark Keepsake Ornaments, visits with a Keepsake Ornament artist and sneak peeks of products to be released in 2013.

During the convention, held July 11-15, 2012, Hallmark will sell limited quantities of the following Keepsake Ornaments:

• 4-LOM and Zuckuss: This two-pack features the criminal droid 4-LOM and Gand tracking expert Zuckuss from "Star Wars: The Empire Strikes Back." Created exclusively for event sales, 4-LOM and Zuckuss are the last bounty hunters depicted in the film to become Keepsake Ornaments. Limited run of 1,000 sets ($35 per set).

Head over to Cool Toy Review for the other exclusives.

"We're excited to return to Comic-Con and to reward our passionate fans with exclusive Keepsake Ornaments and first-looks at new products," said Beth Dorr, associate merchandise manager for Keepsake Ornaments. "This year, we're bringing back fan-favorite activities, such as daily pin giveaways, and offering new activities, including autograph sessions with a Hallmark Keepsake Ornament artist.

Visitors to Hallmark's booth in the Lucasfilm Pavilion will be able to meet and receive free autographs from Robert Chad, one of the Hallmark artists behind the 4-LOM and Zuckuss Keepsake Ornaments.


Fans not in attendance still can be a part of Hallmark's Comic-Con action. Hallmark will give away one set of Comic-Con-exclusive Keepsake Ornaments on Twitter before the convention begins. Additional product giveaways will be hosted before and during the convention. Follow @HallmarkPR, #ComicCon and #SDCC for more information.
Related Stories
| | |
| --- | --- |
| April 20, 2014 | 2014 Hallmark Christmas Ornament Line Up |
| October 6, 2013 | 2013 Hallmark Ornaments Found At Walmart |
| April 18, 2013 | Hallmark's 2013 Keepsake Ornament Line Up |
| July 13, 2012 | A Closer Look At Hasbro's New Speeder Bike |
| July 13, 2012 | Hasbro Adds New Figures To Their SDCC Booth |
| July 13, 2012 | SDCC: Star Wars Collecting Panel |
| July 2, 2012 | Hallmark's Celebration VI Exclusives & More |
| June 23, 2012 | Hasbro: SDCC Exclusive Carbonite Chamber Update |
| June 14, 2012 | 2012 SDCC & CVI Exclusive Character Key |
| April 12, 2012 | Hallmark's 2012 Keepsake Ornament Line Up |
| May 16, 2011 | Hallmark's 2011 Keepsake Ornament Line Up |
| August 13, 2010 | CV: A Look At The Hallmark Booth |
| March 9, 2008 | Hallmark's 2008 Line Up |
| July 24, 2007 | Hallmark's Class Of 2007 |
| March 7, 2007 | Hallmark 2007 |
| July 10, 2006 | Hallmark Keepsake Ornament Premiere 2006 |
| April 9, 2006 | Hallmark Keepsake Ornaments 2006 |
| July 7, 2005 | Hallmark Ornament Premiere |
| January 24, 2005 | Hallmark Keepsake Ornaments 2005 |