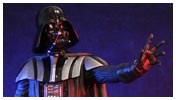 Gentle Giant: TESB Darth Vader Statue
Posted By D. Martin on June 14, 2011















Darth Vader TESB statue $250
License: Star Wars
Item Number: 80017
UPC: 8-71810-00868-1
Height: 12"
Release Date: January 2012

This amazing statue was pulled from the screen of Empire Strikes Back. Darth Vader stands perched upon the glowing orange lights of the Cloud City freezing chamber.

This 1/6th scale statue is sculpted with Lucasfilm provided reference materials and digital scans of film accurate armor and accessories.

The film inspired stair case illuminates with a warm orange glow and Vader is presented with cape draped back and lightsaber drawn.

Made of durable, hard cast materials, this Vader statue is a limited edition that comes boxed with a hand numbered certificate of authenticity.

Related Stories