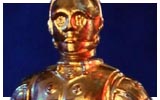 Gentle Giant: See-Threepio (C-3PO) Kenner 12" Figure
Posted By D. Martin on June 14, 2011










C-3PO Kenner 12" figure $75
License: Star Wars
Item Number: 80105
UPC: 8-71810-00866-7
Height: 12"
Release Date: January 2012

Just like they were when you were a kid, only BIGGER! Gentle Giant continues on with their new line of vintage Star Wars Action figure reproductions with the release of this classic C-3PO!

Digitally scanned from mint 3 ¾" Kenner originals and reproduced to a substantial 12" tall. Nothing has been overlooked. Roto and injection molded and made of durable plastics, this jumbo figure is fully articulated, and faithfully reproduced just like the original.

That's not all, this classic Kenner creation comes packaged on a 1977, Star Wars inspired blister card, featuring original front and "12 back" artwork, in a re-sealable plastic outer clam shell to help protect and display!


* Do note, these images are mock ups using the vintage 3 3/4" figure and the wonders of Photoshop.
Related Stories