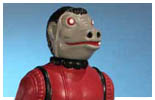 Gentle Giant: Red Snaggletooth Jumbo Kenner Figure
Posted By D. Martin on April 10, 2012









Red Snaggletooth Jumbo Kenner Figure - $70
License: Star Wars
Item Number: 80234
UPC: 8-71810-00931-2
Dimensions: 5" L x 2" W x 9 ½" H
Release Date: Q4 2012

Just like they were when you were a kid, only BIGGER! Gentle Giant is proud to bring you their new line of vintage Kenner inspired Star Wars Action Figure reproductions with the release of the classic Snaggletooth figure.
Digitally scanned from mint 3 ¾" Kenner originals and reproduced to a substantial 9.5" tall. Nothing has been overlooked. Injection molded and made of durable plastics, this jumbo figure includes a faithfully reproduced blaster and comes fully articulated!

With a commitment to keep in line with the vintage Kenner theme, Snaggletooth comes packaged on a 1979 Star Wars-inspired blister card featuring original photos and "20 back" art work, including a resealable plastic outer clam shell to help protect and display this limited edition collectible.

Related Stories
| | |
| --- | --- |
| July 13, 2012 | Gentle Giant's 2012 Holiday Mini Bust Revealed |
| July 11, 2012 | Gentle Giant Was Born Ready For Comic-Con |
| June 20, 2012 | Gentle Giant: Shipping Update For July Releases |
| June 20, 2012 | Gentle Giant: McQuarrie Stormtrooper Mini Bust |
| June 18, 2012 | Gentle Giant: Republic Commando Mini Bust Update |
| June 18, 2012 | Gentle Giant: Convention Exclusive Admiral Motti Mini Bust |
| June 8, 2012 | Gentle Giant - Updated Images on PGM Gifts |
| June 5, 2012 | Photo Archive: See-Threepio & Artoo-Detoo Jumbo Figures |
| June 2, 2012 | Gentle Giant: Light Up Republic Commando Mini Bust |
| May 23, 2012 | Gentle Giant: Memorial Weekend Extravaganza |
| May 10, 2012 | Gentle Giant: Ree Yees Deluxe Mini Bust |
| May 10, 2012 | Gentle Giant: White Clone Trooper Deluxe Statue |
| May 10, 2012 | Gentle Giant: Yoda Kenner Jumbo Figure |
| May 4, 2012 | Gentle Giant May The 4th Shipping Discount |
| May 3, 2012 | Gentle Giant Reveals Jumbo Kenner Gamorrean Guard |
| April 27, 2012 | Gentle Giant: Win A Production Sample Kit Fisto Mini Bust |
| April 26, 2012 | Gentle Giant: Rebel Fleet Trooper Mini Bust Digital Sculpt |
| April 19, 2012 | UPDATE Gentle Giant: April Sale Offers 50% Or More Off |
| April 10, 2012 | Gentle Giant: Death Trooper Statue |
| April 10, 2012 | Gentle Giant: Security Battle Droid Mini Bust |
| March 22, 2012 | Gentle Giant: WonderCon Exclusive Yoda Now Available |
| March 13, 2012 | Gentle Giant: Death Star Droid Kenner Jumbo Figure |
| February 22, 2012 | Gentle Giant: WonderCon Exclusive Yoda |
| February 6, 2012 | Gentle Giant: Battle Droid Mini Bust Update |
| January 18, 2012 | Gentle Giant: Star Wars Dart Board |
| January 18, 2012 | Gentle Giant: R5-D4 Kenner Jumbo Figure |
| January 17, 2012 | Gentle Giant: Shipping In The Next 30 Days |
| December 30, 2011 | Photo Archive: Gentle Giant Happy Holidays 2011 Mini Bust |
| December 28, 2011 | Photo Archive: Gentle Giant's Wicket W. Warrick Mini Bust |
| December 24, 2011 | Gentle Giant Photo Archive: 12-Inch Big Headed Han Solo Jumbo Figure |
| December 23, 2011 | Gentle Giant Photo Archive: 12-Inch Princess Leia Organa Jumbo Figure |
| December 23, 2011 | Photo Archive: Gentle Giant's Slave Leia Animated Maquette |
| December 22, 2011 | Gentle Giant: 2012 First Quarter Release Schedule |
| December 14, 2011 | Gentle Giant Ltd: Hammerhead 12-Inch Jumbo Kenner Figure |
| December 14, 2011 | Gentle Giant: Nien Nunb Mini Bust |
| December 9, 2011 | Photo Archive: Gentle Giant's Cad Bane Maquette |
| November 21, 2011 | Gentle Giant Cad Bane Maquette Reviewed |
| November 16, 2011 | Gentle Giant: General Veers Mini Bust |
| November 16, 2011 | Gentle Giant: Walrus Man 12-Inch Jumbo Kenner Figure |
| November 16, 2011 | Gentle Giant: Sebulba & Anakin Mini Bust Two Pack |
| October 18, 2011 | Gentle Giant's Terrorific Sales Event |
| July 22, 2011 | SDCC11: Gentle Giant, Darth Malgus, & The Old Republic |
| July 21, 2011 | SDCC11: Gentle Giant's Booth |
| June 15, 2011 | Photo Archive: Gentle Giant's Trash Compactor Bookends |