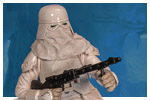 Did You Win The 1/6 Scale Snowtrooper Figure?
Posted By D. Martin on May 1, 2013
The Sideshow Collectibles' Militaries of Star Wars Snowtrooper winner was selected six days ago and still hasn't claimed their prize! If you posted a comment on this story make sure to double check to see if you won and drop us a line before tomorrow at 12:00 PM PST. If we haven't heard from you by this time a new winner will be selected.