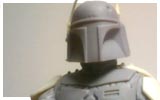 Diamond Select Toys Gives Away Prototype Boba Fett!
Posted By D. Martin on January 7, 2012
Diamond Select Toys is giving collectors a chance to take home a test shot prototype of their Boba Fett Bank Bustalong with the production (along with the production version). Follow this link to find out how you can win this cool collectible!
Related Stories