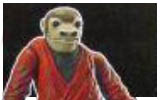 A New Snaggletooth Figure Coming Out!
Posted By D_Martin on June 27, 2012
Images have turned up in our forums revealing a new series of Kenner-style three packs including redos of the Droid Set with R5-D4, Death Star Droid, and Power Droid, and the Villain Set with Sand People, Boba Fett, and Snaggletooth. While the first two figures in these sets are what appears to be simple repacks, the last figure listed in both are totally new figures. Head over to the forum to find out more.