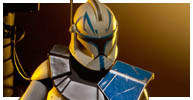 A Closer Look At The 1/4 Scale Captain Rex
Posted By D_Martin on April 14, 2012















Captain Rex Premium Format Figure
Sideshow Exclusive Edition
Militaries of Star Wars
Item Number: 3000971
Manufactured by: Sideshow Collectibles

Attention EU Customers: Even though this item is not available to ship from the EU Warehouse, you can still order it via our US warehouse. You may be responsible for additional shipping fees and/or import taxes.

Est. Ship Date: October 2012
Limited Edition: TBD

Product Summary

Sideshow Exclusive
The Sideshow Exclusive version of the Captain Rex Premium Format Figure includes a unique feature available nowhere else: Switch out Hand holding Grenade Belt
Sideshow Collectibles is proud to present the Captain Rex Premium Format figure. Crafted in detailed 1:4 scale the esteemed Clone Trooper Captain of the 501st comes armed with his impressive DC-15 A Blaster Rifle. At over 18 inches tall, he stands above the remains of a destroyed Super Battle Droid. Each piece is finished with real fabric elements and the individual quality and attention to detail that is the trademark of a Sideshow Collectibles piece; the Captain Rex Premium Format figure makes a notable addition to any Star Wars collection.

Product Specifications
License: Star Wars
Product Type: Premium Format Figure
Product Size: 18" H (457.2mm) x 9" W (228.6mm) x 13" D (330.2mm)*
Product Weight: 9.00 lbs (4.08 kg)*
Box Size: 20.00" H (508mm) x 11.00" W (279.4mm) x 15.00" L (381mm)*
Est. Shipping Weight: 10.00 lbs (4.54 kg)*

* Product size and weight are approximate values. Est. Ship Weight is an estimated value for U.S. shipping calculated by item, box and shipping materials. International (non-EU) shipping costs are based on dimensional weight, click here for more information.

Artists:
Jean St. Jean (Sculpt)
Trevor Grove (Sculpt)
Pascual Wawoe (Sculpt)
Mike Najera (Paint)
Kevin Ellis (Costume Fabrication)
David Igo (Design)
Joe Allard (Design)
The Sideshow collectibles Design and Development Team

Manufactured by: Sideshow Collectibles

Product Backstory

"The name's Rex. But you'll call me 'captain' or 'sir'..."
--Clone Captain Rex

Grown on Kamino from the DNA of Bounty Hunter Jango Fett, Clone Trooper Captain CC-7567, nicknamed Rex, was activated during the Clone Wars, the galaxy-spanning struggle between the Galactic Republic and the Confederacy of Independent Systems. Rex was a freethinking, cunning, and tough warrior, yet despite his unusual individualism as a clone, Rex followed orders without question.

Serving as Jedi General Anakin Skywalker's second, Rex commands Torrent Company of the acclaimed 501st Legion of the Grand Army of the Republic. Rex and his men were assigned to patrol the most lawless and dangerous sectors of the galaxy within the feared Outer Rim.