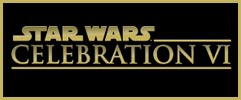 Celebration VI Back To Orlando
Posted By Chris on June 2, 2011
It should come as no surprise that Star Wars Celebration VI will be back in Orlando in 2012. With the huge success of Celebration V and all that it has to offer, Orlando is the perfect fit. Fans will embark on the Orange County Convention Center next August 23-26.

From StarWarsCelebration.com:

After the impressive (most impressive) success of last year?s Empire-themed Star Wars Celebration V, we are thrilled to announce that the biggest party this side of the galaxy, Star Wars Celebration VI is setting down August 23-26, 2012 back at the Orange County Convention Center in Orlando, Florida!

Orlando is a destination for fans and families from around the world, with highlights including the all-new Star Tours: The Adventures Continue at Disney?s Hollywood Studios. Traveling to Celebration VI will provide the perfect opportunity to experience the all-new Star Tours adventures with Star Wars fans from around the world!

BUY YOUR TICKETS NOW

BOOK YOUR HOTEL NOW

Tickets to Star Wars Celebration VI are available now! Be among the first to grab your ticket and guarantee your spot at this not-to-be-missed Star Wars event! All-new memories begin with a ticket to the convention, and it's not too soon to start planning your trip today! With official Celebration hotels starting as low as just $65 per night, it's never been more affordable for fans to vacation in Orlando on any budget.

Don?t miss out on all of the exclusive merchandise, interviews with cast and crew ? and MORE! We've got more than a year until Celebration VI, and we're going to build it together! Send us a tweet or write on our wall. When completed, this ultimate Celebration will spell certain fun for Star Wars fans across the galaxy.

May The Force Be With You!
Related Stories