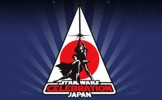 Celebration Japan Announced
Posted By Philip on February 23, 2008
The three-day event will run July 19, 20 and 21 at the magnificent Mukuhari-Meese International Convention Complex, located between Tokyo and the New Tokyo International Airport (Narita). Additionally, Official Pix by C2 Ventures, producer of the Autograph Programs at C2, C3 and C4, will be producing the autograph program at Celebration Japan.

Currently there is only a way to be added to an email list for guest tickets and dealer information on the official show site, Celebrationjapan.com. Much more information will be added to the site soon.

Note: Philip Wise, owner of Rebelscum.com (writing), is a partner in C2 Ventures and Theforce.net.
Related Stories