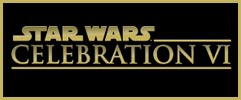 CVI: Get Your Tickets To The 501st Bash!
Posted By Mike on January 9, 2012
The return of Celebration to Orlando this coming summer brings with it the promise of parties beyond the day to day convention experience. One of the most talked about parties of Celebration V was the 501st Bash which mixed Star Wars, adult beverages, music, dancing, celebs, fandom and more into a night on which folks are still reminiscing. Did you miss out last go 'round? Did you attend and want to go again? Well, Vader's Fist is bringing the party back to Celebration VI in the form of the 501st Imperial Bash: Party at the Palace on Friday, August 24th. Basic details are listed below but make sure to visit 501stBash.com for more details and to order your tickets. Hurry before the party sells out!


The 501st Legion Presents the Imperial Bash: Party at the Palace
Friday, August 24, 2012
9:00PM - 2:00AM

Rosen Centre - Junior Ballroom
9840 International Drive
Orlando, FL 32819
(right next door to the Convention Center)
Reminder: This is a party for fans 18 and older!
Related Stories